24 Oct 2022
Bathroom Lighting Zones and IP Numbers Explained
Zones & Regulations for Bathroom Lighting Explained
There are tight guidelines regarding the types of lights you can use in bathrooms, so you must choose them with great care.
Additionally, it is crucial to select bathroom lighting that will provide you adequate vision and contribute to the room's brightness.
Bathroom mirrors, both lit and non-illuminated models, are an excellent method to give the appearance of space and light in a tiny space.
You can make sure that you choose the appropriate lighting for your bathroom with the help of the following instructions.
Bathroom lighting zones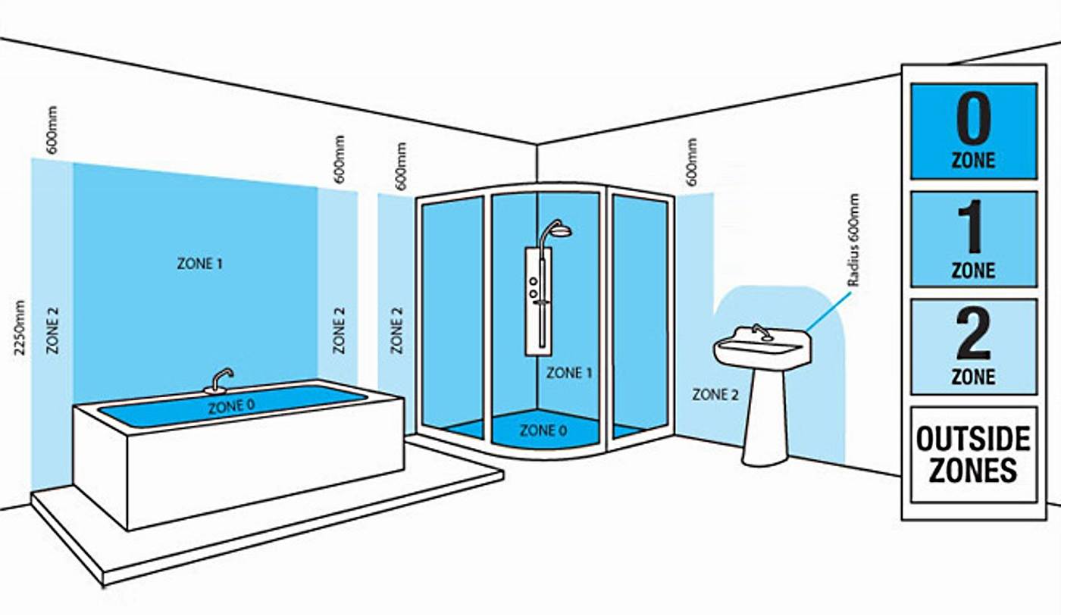 Zone 0 is the actual bathtub or shower. Any fitting used in this zone needs to be total immersion proof and low voltage (maximum 12 volts) and must have a IP rating of IP67 which is totally immersion proof.
Zone 1 includes the space up to 2.25 metres above the bath or shower. Although IP65 is typically recommended, a minimum level of IP45 is necessary in this zone.
It's also important to remember that the majority of shower lights are, in any event, IP65 rated.
Zone 2 is a space that extends 0.6 metres outside the bath's edge and rises 2.25 metres above the ground. An IP rating of at least IP44 is necessary in this area. 
In addition, it's best practise to classify zone 2 as the region within 60 cm of any tap that is near a wash basin.
Outside Zones are any areas outside of zones 0, 1, and 2 (subject to certain restrictions) and where it is unlikely that a water jet will be utilised.
There are no specific IP requirements in this area, however we do advise that you take into account a lamp with at least an IP20+ rating.
IP Ratings and what the numbers actually mean
The level of protection offered against incursion with electrical enclosures is described using IP (or Ingress Protection and International Protection, as they are commonly known).
The first digit indicates the degree of protection against entry of extraneous items, such as dust, and access to potentially dangerous parts.
The protection against moisture, or water, is indicated by the second digit.
FIRST DIGIT
1 - Protected against penetration by solid objects 50mm+
2 - Protected against penetration by solid objects 12mm+
3 - Protected against penetration by solid objects 2.5mm+
4 - Protected against penetration by solid objects 1mm+
SECOND DIGIT
1 - Protected from vertically falling drops
2 - Protected from water drops falling at a max angle of 15°
3 - Protected from water as in the rain at a max angle of 60°
4 - Protected from splashing or projection
5 - Protected from low pressure jets
6 - Protected from high pressure jets
7 - Protected from temporary immersion
8 - Protected against long periods of immersion
Please note this is just a guide and you should always consult a qualified electrician before installing your bathroom lighting.
IF YOU HAVE ANY QUESTIONS OR QUERIES OUR FRIENDLY CUSTOMER SERVICE TEAM
ARE ON HAND TO TAKE YOUR CALLS OR YOU CAN ALWAYS VISIT OUR SHOWROOM.
WE LOOK FORWARD TO TALKING TO YOU.
KEEP YOUR LIFE BRIGHT WITH THE RIGHT LIGHTS!!!
POOLE LIGHTING FACTORY SHOP.